Uploader: Imported From Derpibooru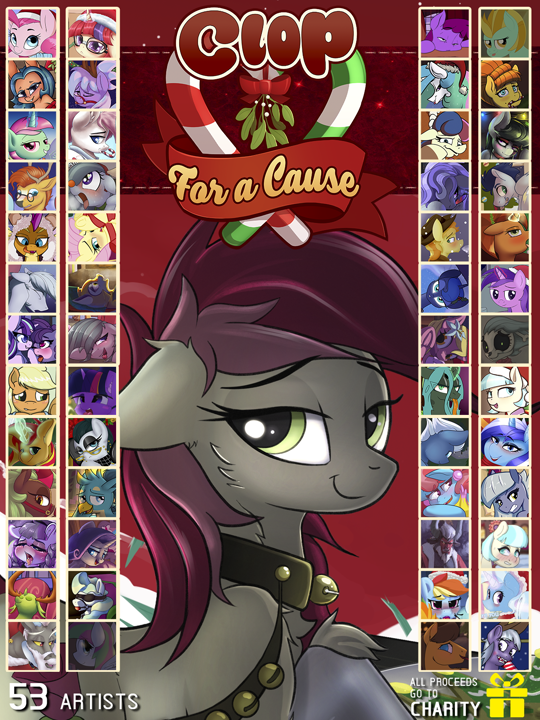 Clop for a Cause 4 is here!
Another year and boy has it been a stressful one. Great news is we have some good pony art for you guys. Our team has been working hard to provide you guys with some awesome art. Feeling generous? Throw in a few dollars and you will also help kids in need who can use a brighter Christmas.

What's in it?
From a team of 53 artists we have created 62 unique pieces of art and 32 picture variants. The theme for this pack is Christmas time and that cold winter season. This pack contains numerous edits that include mares and stallions being filled with that good Christmas spirit, wardrobe changes, and so much more.

What cause?
This entire art pack is non-profit! Every single penny will go to the Toys for Tots Foundation anonymously, just in time for Christmas! Their goal is to give toys to kids and needy families across the nation, and we found this to be a cause worth supporting!

Standard Edition
This version has 53 images, (one image from each artist) at 1500 pixel resolution. Best of all, it's free!

Price: $0 — Free
The Basic Edition will be available from December 18th — January 15th.
[Click here]

Deluxe Edition
This contains all 94 images: The 62 unique images and 32 edits. Each picture is at a ~2800+ pixel resolution. It also includes a whole bunch of bonuses, such as:

PSD/CLIP/SAI work files!
Full resolution images
Time-lapses of pieces being made
Sketches
Behind-the-scenes documents
Price: $5.00 + any additional amount you're willing to donate

The Deluxe Edition will be available from

December 14th — January 15th

[Click Here To Buy]

Additionally, 100% of your payment goes to Toys for Tots anonymously. If you would like to support the artists, consider commissioning them in some way. :)

Important reminder
We will never send you a private message or email asking you to donate. If you get any of these, it is not us.
Thank you for taking the time to read this. We hope you will enjoy our work!
2020-07-13 14:13:59 UTC