Uploader: Imported From Derpibooru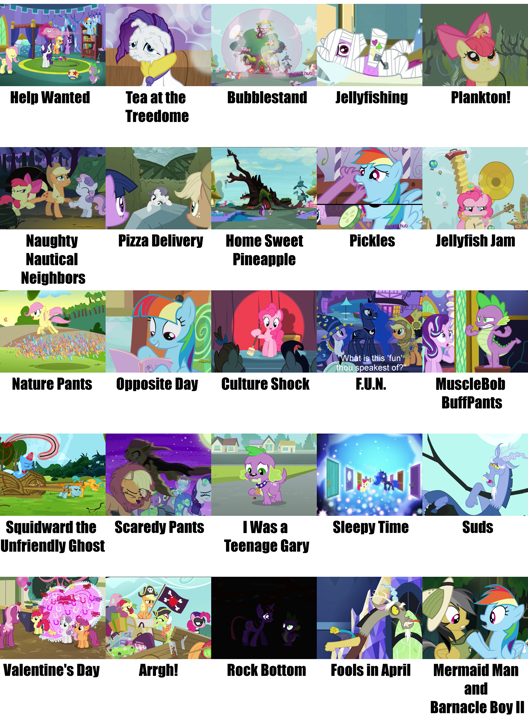 Someone did a comparison chart of Spongebob as MLP episodes, so I thought I would do it vice versa. I only did some episodes for Season 1, but I will do other seasons if you want me to.

For those of you who are confused about something, here's a guide.
1. Help Wanted: Spongebob was literally bouncing off the walls when he first came into the Krusty Krab.
2. Tea at the Treedome: Prunity was the closest thing I could find that looked like Shriveled Spongbob.
3. Bubblestand: Squidward blew a bubble that lifted his own house into the sky.
4. Naughty Nautical Neighbors: Spongebob and Patrick were fighting over who is Squidward's best friend.
5. Pizza Delivery: According to Spongebob, the pioneers used to drive rocks.
6. Home Sweet Pineapple: I was going to do Applejack's destroyed barn, but I thought that the destroyed library would be more relevant (and give people a more sorrow feel). It's a shame that the tree couldn't grow back like Spongebob's Pineapple house. :*(
7. Pickles: I had to use two screenshots so it would make more sense. I wish I had made them the same size, though.
8. Jellyfish Jam: Spongebob pulled a Pied Piper to lure the jellyfish back to the fields.
9. Nature Pants: I was going to have Naked Rarity, but I wanted to save that for the "Pranks a Lot" episode.
10. Opposite Day: Spongebob impersonated Squidward.
11. F.U.N.: I had to add Luna's quote for it to make sense.
12. Squidward the Unfriendly Ghost: I first started with the Spirit of Hearth's Warming Past, then the chariot from "Three's a Crowd", and finally I ended at Snips and Snails dragging a wheel-less cart.
13. Scaredy Pants: Both this and MLP's "Scare Master" had a yellow colored person who was sick of being scared on Halloween, which resulted in them doing the scaring.
14. I was a Teenage Gary: Spongebob transformed into a snail; Spike transformed into a dog. It's kind of ironic (am I using that word correctly?) when you think about it.
15. Valentine's Day: This episode and MLP's "Hearts and Hooves Day" both feature a gift that is shaped like a giant heart.
16. Rock Bottom: "This isn't your average everyday darkness, this is…Advanced Darkness"
17. Fools in April: Squidward and Discord had trouble saying "Sorry."
18. Mermaid Man and Barnacle Boy II: Rainbow Dash wanted to be with Daring Do just like Spongebob wanted to be with Mermaid Man and Barnacle Boy.

I'm sorry if I missed any episodes for this season. Let me know in the comments if you still don't get it.
2020-07-13 19:25:16 UTC